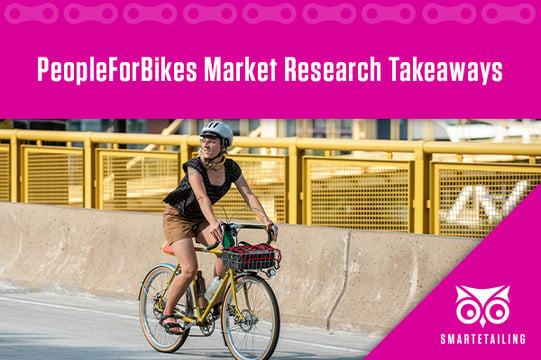 Recent market and consumer research published by PeopleForBikes highlights some bright spots for bike shops.
Here are three fact-based opportunities that we see as marketing partners responsible for helping bike shops succeed.

Take a look at these notes and see if you see ways to weave this into your marketing or sales training strategies.
Safety sells
Riders' concern about safety is negatively impacting ridership.
2022 reversed a longtime trend of Americans feeling safer riding their bicycle. 53% of survey respondents were worried about being hit by a motor vehicle; this is up from 47% in 2020.
Setting aside the risk associated with cycling not seeming safe, it is actually an opportunity for bike shops to acknowledge this concern and build messaging to overcome barriers for riders.
Safe cycling isn't a burden for consumers. Safety is fun to talk about and the gear is cool.
Helmets are comfortable and stylish accents to on-bike style. Lights and flashers have gotten ridiculously good, it's much less likely that a distracted driver will overlook a cyclist. Navigation apps make it easier than ever to find the best way to get around on a bike.
Equipment aside, you have a huge advantage as a local retailer. You can offer unique insights into how to navigate local intersections safely, how to connect bike paths and lanes efficiently, and the best ways for cyclists in your community to signal their intentions to drivers.
For people who are more familiar with your community from behind a windshield, they might not even see the local places where bikes can be ridden away from cars - fitness paths, natural surface trails, or gravel.
According to the research, Respondents were only slightly more familiar with bike lanes and paths than they were in 2020. We can all do a better job of telling the story of improved infrastructure.
The research also showed that 1 in 5 Americans rode a bike indoors (spin class, trainers, etc) last year. That's powerful information that should remind you of the opportunity in merchandising and marketing equipment for indoor cycling.
We have excellent free content available in the Page Library to help you add relevant content to your website about both safety equipment and indoor cycling.
If you need help finding or installing these materials, please let us know. We are happy to help.
Boosting service department success
Revenue generated by service departments in 2022 outperformed every year on record, aside from 2020. The 2022 market for shop services was 3% greater than 2021 and only 0.5% below 2020.
With the repairs category being so healthy, this is a great opportunity to market your business. Not only can you maximize your market share - but you can use the market research to drum up more business.
Use promotional or automated email marketing to stay in front of customers. Tune up your website's service page and link to it from your location and home pages.
Make sure you have the best Google Business and Facebook pages in your market, and pay for Google Search Ads to dominate page one of search.
In both 2020 and 2022, nearly half of all adult bikes were considered not operational by their owners. People aren't riding bikes because they think they're broken. We all know better than that - fixing up bikes is what we do.
The number one reason bikes are sitting unused in garages - flat tires.
It sounds simple, but promoting free tire and safety inspections could drive store traffic. Also, consider promoting tire sealant to cut down on flat tires. A lot of shops only mention flat prevention when a customer buys a bike or is talking with a service writer.
The second most common cause for bikes being left unused is worrying about the chain. Offer up quick while-you-wait drivetrain adjustments as an affordable service option. Post short videos on social media about how to lubricate a chain at home. Host bike maintenance clinics at your store.
When you promote service to infrequent customers - make sure they know that you will help them get their bike from their vehicle and into the store. Remove barriers and frustration. On that front, use the SmartEtailing online service appointment tool to make it even easier.
Need help enhancing your service page or advertising on Google, our marketing team can do it for you.
Transportation is more than commuting
The percentage of Americans using a bike as transportation 1-2 per month has grown from 15% to 18% in the last five years.
I know for myself, when I hear "transportation" and I think "commuting to work." But the research was very specific in this area and transportation means a lot more.
Running errands and traveling to social/recreation/leisure activities remained the most common reasons for transportation riding. Keep this in mind so you don't overly focus on "commuting" as the only transportation use.
Bicycling for "transportation only" increased among all rider demographics - while recreational usage was flat. Promoting bikes for transportation, using the more broad understanding of the term, can help you tap into the inspiration of people wanting to experiment with using bikes more in their lives.
Using appropriate images and messages on your website and in your emails can help. Remember that it isn't just exercising that gets people riding. It's convenient, sustainable, and fun.
What is your group ride? Is it fitness focused? What about trying something like #coffeeoutside where you encourage customers to ride their bikes to meet you at a park? How about getting together on a bike path and ride to get ice cream or donuts? Experiment.
Research is powerful
Joining PeopleForBikes is an affordable way to access a wealth of market data and research. Not only will you be better informed as a business owner - you will also be contributing to the organization working tirelessly to improve cycling access and safety across the country.
SmartEtailing is a proud supporter of PeopleForBikes, we hope you are too.
---
Marketing resources
Our team of bike shop marketing experts offer a full suite of marketing services to fit every budget, including providing complimentary monthly marketing assets for every SmartEtailing client.
Automated marketing emails
Consider building loyalty and ensuring your shoppers get the most out of their purchase with automated post-purchase emails. Our Loyalty subscription starts at only $49/mo. Learn more here or check out our predesigned premium email tracks.
Complimentary library content
You can utilize the complimentary marketing content to promote the key segments of your business outlined above. Take some time to review landing pages available in the Page Library of your Site Manager and reach out if for personalized assistance.
Safety

Indoor cycling

Service and repair