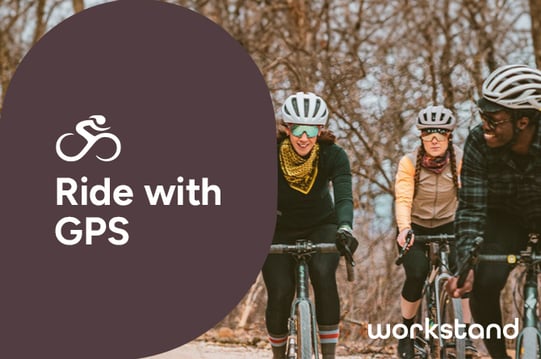 I'm lucky to have great friends in the industry who share my passion for helping local bike shops thrive.

I first met Michael Browne when he was the editor of the legendary Dirt Rag Magazine. We eventually became co-workers at Trek and stayed in touch as his career journey traversed some of the biggest companies in the bike business.
Today, he's returned to his roots and is delivering and sharing compelling ride experiences to cyclists everywhere.
He and the team at Ride with GPS are building tools making it easier for shops to build experiential relationships with customers.
At Workstand, we believe there is incredible potential for shops to keep ridership in your community growing and turn that into business opportunities.
How do you benefit from creating experiences?
Differentiation: In a competitive market, providing unique and memorable experiences can set a bike shop apart from the competition. It can help create a distinct brand identity and reputation locally - and communicate your value relative to national sellers.
Increased Sales: Engaged riders are more likely to make repeat purchases, buy higher-end products, or invest in accessories and services. A positive experience can lead to increased sales and higher average transaction values.
Customer Loyalty: When a bike shop provides excellent experiences, customers are more likely to return. Building a loyal customer base can ensure a steady stream of business and word-of-mouth referrals.
Community Building: Hosting events, rides, or workshops can foster a sense of community around the bike shop. This not only attracts new customers but also helps retain existing ones.
Emotional Connection: Creating positive and memorable experiences can foster an emotional connection between the customer and the brand. When customers have a strong emotional tie, they're more likely to choose the shop over alternatives.
Online Engagement: Unique experiences can generate buzz on social media and draw more traffic to your website. This kind of exposure can attract new customers and build on the positive reputation of your shop.
Share your recommended bike routes
Ride with GPS recently rolled out a new program just for bike shops that helps you leverage your local knowledge and create a valuable community resource to help you connect customers with the best gravel routes, the safest city rides, or the most scenic route to and from that hidden gem.
Their route creator allows you to build and share routes as a resource to create better riding experiences for your customers, and they have people on staff to help you get the most out of the tools.
They've also added web page templates to the Workstand Page Library so you can easily import and customize a resource page for customers.
Adding a page to your website creates a great link destination for homepage visitors, email marketing, social media, and search ads. These pages also delivers huge SEO benefits to attract customers to your website who are looking for places to ride in their areas.
Simply fill out our form, select your preferred page layout, and our team will help update your website.
Let us help market your experiences
Creating ride experiences for customers through your bike shop offers a range of strategic benefits that can help the shop thrive in a competitive market. If you are looking for more ideas on how to use Workstand tools to promote experiences, reach out to our Marketing Agency for more information.