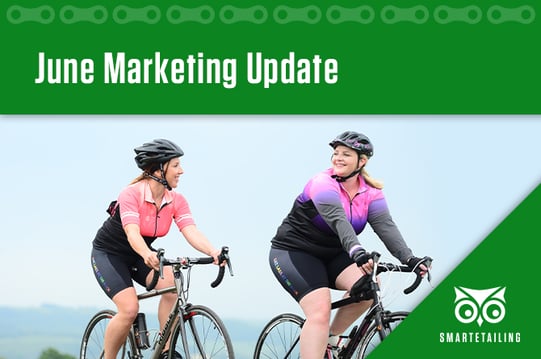 It's finally here! The summer riding season has officially begun, and we have all the content you'll want to get customers excited. Celebrate dads everywhere on Father's Day, or wave your Pride flag high with fresh designs. Inspire shoppers to branch out into new forms of cycling with gravel and bikepacking homepage highlights and landing pages. However you like to kick off the summer, we have the pages your site needs.


Our team is always ready to assist with your site's content, whether you opt for free library pages or want to customize your content. Reach out to the client success team or your designated marketing representative with any questions.
---

Summer Sale
Clear out excess inventory with a summer sale - this page is sure to get customers excited about hot deals on your products.
Found in the Page Library under Sales and Promotions > Summer Bike Sale 2023
---

Father's Day
Help shoppers find the perfect present for Dad this Father's Day. This gift guide will inspire shoppers picking up last-minute gifts - everyone loves a brand new bike!
Found in the Page Library under Holidays > Father's Day 2023
---

Bikepacking
Introduce your customers to a whole new world of cycling. Bikepacking is a great way to blend two of life's great joys, biking and camping. Show your shoppers just how easy it can be!
Found in the Page Library under Seasonal Content > Summer > Bicycle Overnights
---

Gravel Guide
Gravel bikes are the hot new thing in the cycling world - get ahead of the curve with this Gravel Guide library topic. Road riders and MTBers alike will enjoy the versatility of gravel bikes, so help them find exactly what they want with accessories and gear to match.
Found in the Page Library under Products > Bicycles > Gravel Bikes > Gravel Bikes - Keep It Light
---

Pride Month
This homepage highlight celebrates Pride Month, but can be left up all year to emphasize inclusivity in the cycling community. Happy Pride!
Found in the Page Library under Seasonal Content > Summer > Pride 2023 (Homepage Graphic Only)
---

Bicycle Safety
Help your shoppers feel more comfortable cruising city streets with this Urban Bicycle Safety guide. Featuring helmets, lights, locks, and more, they'll find the gear they need to stay savvy in the city.
Found in the Page Library under Community > Urban Bicycle Safety
---
Refresh Your Homepage
Responsive home page highlights can now be found at the bottom of each corresponding landing page in the SmartEtailing Page Library.
Step One: Find Your Content
To access the new responsive highlights, go to Content Manager > Page Editor and click the "Page Library" tab.
Step Two: Import Your Page
Choose your new responsive page and import it into your library by clicking the yellow icon in the Action column. You will be prompted to select a folder for the new page and given the option to set the imported page to active.
Step Three: Add the Highlight to Your Home Page
Click the "Your Pages" tab and locate your new page. Select the Edit icon to open the page, then scroll to the bottom to find the responsive highlight content as well as detailed instructions for installation.