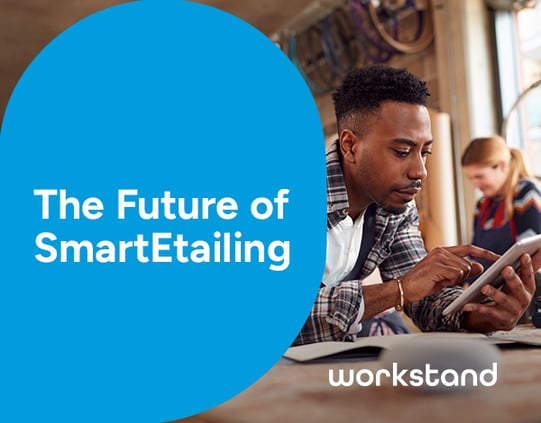 The world's first Google search happened in September 1998. That same month, the SmartEtailing founders met with 20 of the largest bike shops to pitch their idea to build an ecommerce platform just for them. Within six months, the first SmartEtailing website was live.

Over the last 25 years, SmartEtailing has delivered bike shops much-needed technology to compete in a retail world transformed by ecommerce. Today, we are announcing big changes to help bike shops thrive in the era of integrated retail technology - where data and integrations are critical business infrastructure.
We're not just ecommerce anymore. We're all commerce. Every subscription now includes point of sale features at no extra cost.
SmartEtailing is now Workstand
Along with new capabilities comes a new name. We're now called Workstand.
A workstand is the cornerstone of local bike shops. That's where every bike is assembled. Every repair completed. It's where employees gather when they lock up for the night.
It's an essential tool for each of our clients - and so are we. We are your workstand for the business of bikes.
All-in-one commerce solution
Every bike shop deserves a modern commerce platform built specifically for your needs. One system for managing online and in-store transactions, with a single inventory and customer record, improves business efficiency.
On top of our proven website technology trusted by over 1,300 bike shops, we've added in-store sales, purchase orders, and inventory management.
Click and collect orders, which make up half of all online orders, are seamlessly connected.
With Workstand, customers and staff benefit from intuitive connections between your store and website. Each can quickly access complete product information, including images and availability, with a single click.
Even with our expanded capabilities, our websites will continue to integrate with popular third-party point of sale systems.
Data at your fingertips
Workstand has by far the industry's largest data and integrations network. Nearly every product you sell, from over 400 brands, is in our system and ready to use.
From the largest bike brands, to the smallest accessory companies, we have it all. And not just product content either, we have direct connections with dozens of supplier warehouses and built in systems to help you maintain accurate pricing.
Over 70 supplier integrations mean you have instant visibility into the stock status of products at your suppliers. No more logging into multiple B2B systems when placing a special order or purchase order.
There are massive time savings in not having to manually enter product data yourself or import files every time new products are released. Quickly scan or search for any product in our system and instantly see availability across multiple suppliers.
Receive orders quickly against detailed product records to maintain accurate inventory and avoid costly purchasing mistakes.
Your proven partner
We've been in the US and Canadian markets for 25 years. The industry trusts us, which is why we have enduring partnerships with nearly every brand and supplier in the industry.
Our software is proven. We helped bike shops successfully transition into the era of ecommerce. In 2020, when a bike boom intersected with an ecommerce boom, we were a crucial partner helping our clients capitalize on opportunities. When the market shifted, our clients relied on our integrated supplier network to sell more while stocking less inventory.
We are well known for our collaborative customer service. You can always count on a friendly and knowledgeable member of our team to be here to support the unique needs of bike shops.
No monthly subscription
Any bike shop can use our point of sale features with no monthly subscription - even without a Workstand website. Unlock additional features if you upgrade to one of our ecommerce packages.
If you already have a Workstand website, you can use any of the point of sale features for no extra charge. Creating purchase orders is a great place to start.
As with all Workstand subscriptions, there are no contracts and total pricing transparency.
Getting started
Current subscribers can begin using certain features today, with more complete features available in November.
New subscribers for point of sale features are invitation only through the end of the year to ensure a smooth onboarding process. When you finish your demo, just ask to join the list.
Point of sale features will be available to all new subscribers starting January 1.
See for yourself
The earliest version of our point of sale is tailored for shops needing to modernize from outdated systems. We will continue to release new features until we have a solution for every shop.
If you want to know your options or seek an alternative to an existing technology, you should take a tour. We want everyone to know about our advancing capabilities.
Schedule your no-pressure demo today and let us show you what Workstand is all about.