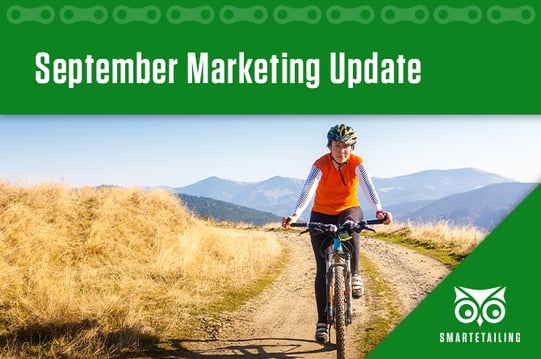 The end of summer doesn't mean the end of riding. Fall is almost here, it's time to get your site ready for the season with fresh new content designed to bring traffic to your site. School is back in session - show shoppers that family fun can continue all year long with Ride As A Family content. If you're clearing out the sales floor for new inventory, try the End of Season Clearance page, or encourage customers to embrace the coming chilly air with fall riding content.

Don't see marketing materials for the product categories that you want to promote? Want something customized to fit your desired look and feel? Reach out to our support team or your marketing account representative today - we would love to help you get what you need to increase sales online and in-store.
---

Ride As A Family
Summer vacation may be over, but the family fun doesn't need to end. Let customers find the perfect bike for every member of their crew with this Ride As A Family content.
Found in the Page Library under Seasonal Content > Fall > Cruise With Your Crew
---

Enjoy Fall By Bike
Shorter days and cooler temperatures mean extra gear. Show off your fall-centric inventory like outerwear, bike lights, gloves, and more so customers can cruise through the autumn comfortably.
Found in the Page Library under Seasonal Content > Fall > Enjoy Fall By Bike
---

End Of Season Clearance
Get the sales floor ready for a new batch of bike inventory with end of summer sale content. This page features key SEO (Search Engine Optimization) phrases designed to draw relevant traffic to your site.
Found in the Page Library under Sales & Promotions > Fall Bike Clearance 2023
---
Refresh Your Homepage
Responsive home page highlights can now be found at the bottom of each corresponding landing page in the SmartEtailing Page Library.
Step One: Find Your Content
To access the new responsive highlights, go to Content Manager > Page Editor and click the "Page Library" tab.
Step Two: Import Your Page
Choose your new responsive page and import it into your library by clicking the yellow icon in the Action column. You will be prompted to select a folder for the new page and given the option to set the imported page to active.
Step Three: Add the Highlight to Your Home Page
Click the "Your Pages" tab and locate your new page. Select the Edit icon to open the page, then scroll to the bottom to find the responsive highlight content as well as detailed instructions for installation.