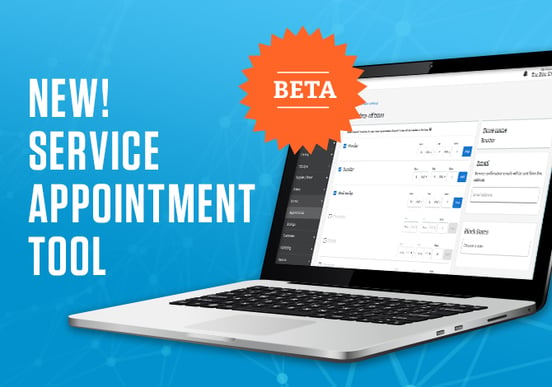 With a limited staff and a high volume of phone calls, bike shops want to use technology to improve customer service and payroll efficiency. That's why we now include an online Service Appointment Tool free with every SmartEtailing website package.
Accept service appointment requests online
Service department drop off appointments
Customers don't want to call businesses on the phone unless they absolutely need to. Instead, they want to use their smartphone to learn details like hours and directions - or to schedule appointments.
We designed a tool that helps your customers schedule drop offs online without impacting your established service department management process.
This allows the customer to request a drop off time for their repair and helps you clearly communicate expectations about estimates and timelines.
The goal is to make it easier for riders to do business with your bike shop and improve your local market share for bike repairs.
Customize for your shop
The Service Appointment tool is highly configurable to suit your unique needs.
Set up a schedule for each of your store locations
Configure unique drop off days/times
Input the number of appointments available for each drop off time
Create up to 10 types of services (with or without prices)
Exclude specific dates from schedules
Personalize on screen and email messages to set customer expectations
Enter the email address(es) to receive new appointment requests
You can add a link to your Service Appointment Tool from anywhere on your website - service page, homepage, location page, or footer for example. The more intuitive you make it for your customers the more you reduce your phone call volume.
Incorporate into your existing workflow
The Service Appointment tool is designed to be flexible to setup and easy for your staff to use.
As new appointment requests come in, the person responsible for managing service can review and choose how to handle each request.
In some cases, a follow up communication with the customer may be required to better understand the nature of a repair. If customer expectations were clearly communicated, then a work order can be created for a day close to the customer drop off date.
You can configure your messaging so customers understand that they are scheduling a drop off - and not a same-day repair. Customized messaging also helps customers understand that the cost of each repair will be finalized by a trained member of your service team after the bike is evaluated.
Adding the tool to your site
Adding links from your homepage or service page is easy. You simply create a link or button and using the link editor click the icon that directs the link to your Service Appointment Tool.
We have created a comprehensive help center article to walk you through the complete setup process.
As with all new features, if you have any questions please feel free to reach out to our Client Success team for personalized assistance. We've deployed this new feature under beta status in order to collect hands-on feedback from retailers like you.