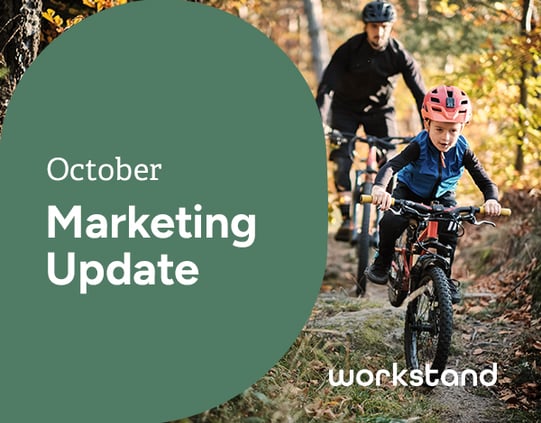 The leaves are turning, and while customers are looking forward to gorgeous fall rides, the holiday season is coming up. Get your website in gear for fall and set up the framework for holiday merchandising early this year - shoppers are already thinking about where to buy their gifts. Make your website their first stop for all things cycling with the right marketing content.

Looking for something more custom that fits your shop's brand? Our team is happy to help create custom designs for any marketing you might need. Reach out to our support team or your marketing account representative today - we would love to help you get what you need to increase sales online and in-store.
---

Cycling Gift Guide
It's never too early to start thinking about the perfect present for the special cyclists in your life. Simplify things for your customers with a gift guide geared towards bike lovers.
Found in the Page Library under Holidays > Cycling Gift Guide 2023
---

Fall Bike Sale
There's nothing like a bike ride on a crisp autumn day - help your shoppers find new ways to ride while clearing out the sales floor.
Found in the Page Library under Sales and Promotions > Big Deals On Bikes 2023
---

Kids' Gift Guide
Buying a child a new bike is a surefire way to create magical holiday memories. This holiday content is geared towards customers looking for kids' bikes in a wide range of sizes.
Found in the Page Library under Seasonal Content > Fall > Kids' Gift Guide 2023
---
Refresh Your Homepage
Responsive home page highlights can now be found at the bottom of each corresponding landing page in the Workstand Page Library.
Step One: Find Your Content
To access the new responsive highlights, go to Website > Page Editor and click the "Page Library" tab.
Step Two: Import Your Page
Choose your new responsive page and import it into your library by clicking the yellow icon in the Action column. You will be prompted to select a folder for the new page and given the option to set the imported page to active.
Step Three: Add the Highlight to Your Home Page
Click the "Your Pages" tab and locate your new page. Select the Edit icon to open the page, then scroll to the bottom to find the responsive highlight content as well as detailed instructions for installation.