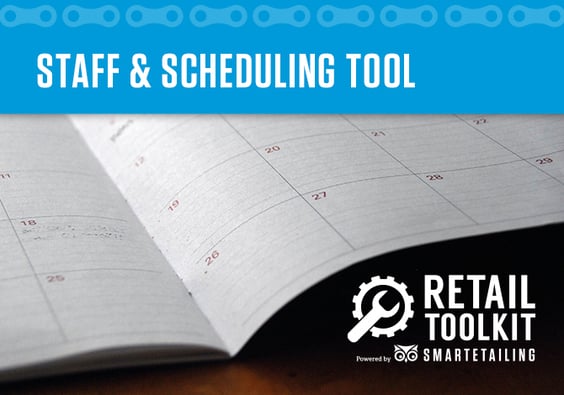 Effectively managing your employee scheduling can make a big difference for your bottom line, impacting revenue and expenses.
If your staffing levels don't align with your sales forecast then you may miss crucial sales opportunities. If you are overstaffed or investing too much managerial time into building schedules, then your payroll investments aren't efficient.
SmartEtailing's new Retail Toolkit performance management features include a powerful Staff Scheduling and Payroll tool that can help.
Payroll's impact on profitability
If you are like most bike shops, payroll is your second largest expense after inventory.
Your payroll budget is expressed as a percentage of gross sales. For example, a bike shop doing 1 million dollars in sales with a 20% payroll budget will spend $200,000 annually on employee expenses. It is easy to see how a seemingly small 1-2% overage in payroll can impact your bottom line if not offset with increased sales.
Bike shop payroll budgets commonly vary between 18% and 23% across the industry. Most of the time this variance is either market-related or resulting from specific strategic choices. But we encounter situations where owners simply don't have adequate information or tools to set and maintain effective payroll budgets.
Retail has never been easy. Today you are facing growing challenges in recruiting and retaining staff, coping with rising wage costs, and meeting customer expectations for timely service.
Payroll's impact on profitability has never been more important so this is an obvious area for you to make effective choices.
Budgeting ahead for payroll spending
You likely pay careful attention to the Salaries and Wages section of your income statement each month - attentively monitoring performance compared to the plan and previous year. But an income statement is a measurement of choices that happened in the past.
How do you make informed scheduling decisions in advance and take control over the results that show up in financial reports?
SmartEtailing can help you make informed scheduling decisions in advance and take control over the results that show up in financial reports - instead of only having an income statement to show past decisions.
With our Staff Scheduling and Payroll tool, you can quickly build staff schedules guided by projected sales and traffic data to stay within an easily set budget. You can save on payroll while ensuring adequate staffing levels based on projected sales and customer traffic.
As an owner, you have instant access to historical and projected sales and traffic data to guide budget-based scheduling decisions. Once you unlock the power of your data then you can gain the control over profitability you are looking for.
Staffing software for bike shops
Without effective software, owners and managers can spend hours each week building schedules and communicating with staff. Using Retail Toolkit will save you time.
Why is Retail Toolkit an indispensable management tool for leading bike shops?
Build schedules in minutes with an intuitive user interface
Automatically incorporates sales and traffic data
Segment staff into departments for precise scheduling guidance
Determine customer service needs by day and hour
Easily track overtime, PTO, and time clock errors
Create commission plans to drive sales and motivate staff
Build and share schedules with staff electronically
Export hours worked to your payroll system
Settings to build schedules based on particular needs
Unique multi-store functionality
Eliminate guesswork and improve results
Our Staff and Scheduling Tool puts the power to build budget-based staff schedules at your fingertips. You can save time so you can focus on growing your business.
Your employees will appreciate having their schedules emailed to them, while your customers will enjoy visiting a store that has adequate staff to service them.
Most importantly, you will have gained control of one of your business's most significant expenses in an easy-to-use application.
As payroll and other expenses continue to rise, monitoring all aspects of your business and proactively controlling costs becomes ever more critical.
SmartEtailing is here to help. Contact us today for a personalized preview of Retail Toolkit so you can see for yourself how we can help you improve results.
Ready to learn more?
Reach out to David for a tour of our staffing and payroll tools.
Additional resources