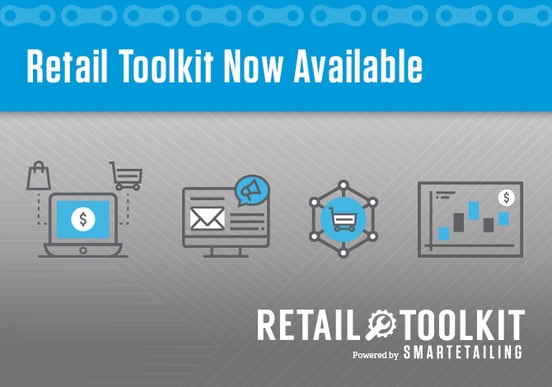 SmartEtailing's new Retail Toolkit software is designed to help independent local bike shops like yours build a better business.
There are two new Retail Toolkit packages that you can add to your SmartEtailing subscription.
The Loyalty package helps you deliver amazing customer experiences with data-driven email and rewards programs. The Performance package offers data visualization and business intelligence features to make your business more efficient and effective.
Unlock your point of sale data
Major retailers and brands recognize the importance of data to the future of business. You should too. We help you unlock the power of your data and compete in the rapidly-changing and increasingly volatile bike market.
Integrated with the industry's most widely used point of sale systems - Retail Toolkit puts your customer, inventory, staff, and sales data to work for you. With SmartEtailing's Retail Toolkit software you get better marketing and more profitable business operations from your trusted technology partner.
Increase customer loyalty
Turn casual shoppers into loyal fans with automated emails and customer rewards tools available with our Loyalty package.
Shoppers have more choices than ever on where and how to shop. When you engage with your customers in a compelling way, you can improve loyalty and drive more purchasing.
Use the data-driven email automation feature to increase purchase frequency and volume. You can configure personalized email tracks tailored to specific products customers bought. Use multiple email tracks and segments to grow profitable categories, encourage upgrades, and increase business for your service department.
Automated emails alongside the included digital rewards program will get your customers spending more with you. With the points-based rewards feature, you have total control to configure a program to meet the specific needs of your business. Customer points are updated automatically using real-time data from your point of sale system - and customers can check their points and offers 24/7 on your website.
Take advantage of both of these data-driven marketing tools by adding the Loyalty package to your SmartEtailing subscription.
Improve sales and profitability
Your point of sale system warehouses a treasure trove of data that SmartEtailing's Retail Toolkit unlocks to give you valuable information and directional insights.
Retail Toolkit's reporting and management tools use real-time data and advanced business logic to drive profitable decisions for many leading bike shops.
The available Performance package offers business intelligence and data visualizations to analyze, forecast, and optimize your areas of greatest expenditure - inventory and payroll. The solution natively supports single and multi-location retailers, with options to view individual locations or enterprise-wide rollups.
Get real-time updates in an easy-to-use dashboard for a complete view of store performance at a glance. Your POS data connects with Retail Toolkit to help you identify opportunities across your business - and turn those insights into action.
Forecast and analyze sales
Manage your inventory and purchasing
Schedule and payroll management
Measure customer foot traffic
As the bike industry continues to evolve, you are under increasing pressure to spend every penny wisely. Add the Performance package to your SmartEtailing subscription and use technology to get the most out of your investments in inventory and payroll.
Get started today
Now more than ever you need technology on your side. SmartEtailing is your complete software solution to grow your business profitably.
Contact us today to learn more about how our Retail Toolkit Loyalty and Performance packages can help you build a better business.
Net yet a SmartEtailing client? Get a free demo and talk with our experts about how to grow your business.