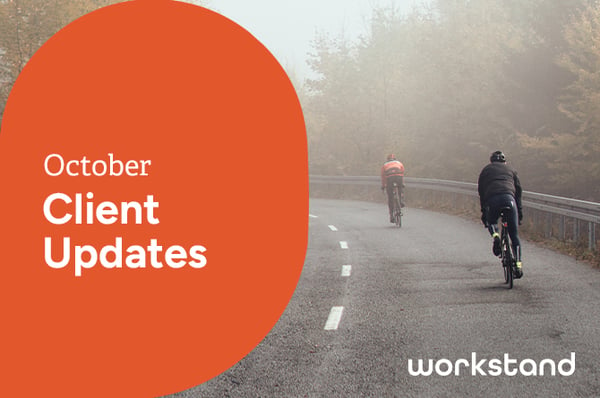 Read the latest updates from all the teams and departments at Workstand. Each month our team is working tirelessly to get your website and tools working as efficiently for you as possible. Check out the October update to learn more.
Workstand is the future of SmartEtailing
As a SmartEtailing client, you may have noticed some changes, but we want to reassure you that it's still us! To help launch our new in store features and to better support the complete business of bikes, we have rebranded to become Workstand.
Moving forward, you'll notice Workstand everywhere from our website, Admin, billing, and more. Although our name has changed, there is no change to our pricing, our team members, or the way we care about your business.
Get a demo of our new POS features
Ebike education resources from PeopleForBikes
PeopleForBikes recently shared a series of videos and quizzes created to help educate consumers about electric bikes. These are great to utilize in customer communications and social posts. Stay tuned for complimentary website content coming soon.
Create riding experiences for your customers
We've partnered with Ride with GPS to offer you a FREE Shop account ($250/yr value) to publish your favorite local routes and group rides directly on your website.

Take the next step and fill out the form by selecting your preferred complimentary landing page layout and create your Ride with GPS account. Read our blog post to learn more about the benefits to your business.
Limiting fraud
As we roll into the holiday season, please take some time to refresh yourself and your team on the tactics to limiting fraudulent orders.
Marketing Updates
Kick of your holiday marketing plan
The holiday shopping season is here and we're prepared to help you finish the year strong. Bundle savings available!
Each premium content package is $400 and comes with a landing page, homepage graphic, plus content for social media and email marketing. This content can be customized to reflect the brands that you carry. Ready to get started? Email lauren.w@smartetailing.com to get rolling.
Attract more shoppers with direct mail
Stand out this holiday season with our holiday direct mail promotion! By partnering with the NBDA and The Bike Cooperative, we are able to offer you an excellent marketing opportunity at an affordable price. Reach out to learn more today!
Content Updates
Free marketing content
New marketing content is always in the works. Recently, we've added the following new content to the marketing Library.
Catalog Updates
Our Catalog Team works closely with the brands you carry to ensure you can display up-to-date products on your website. Check out the brands we've added over the past 30 days -
Snow sports brands with new items added
Smith Optics
Line Skis
Craft
Giro
K2
Cycling brands with new items added
45NRTH
Bontrager
CADEX
Cane Creek
Cannondale
Columbus
Craft
CUBE Bikes
DMR
DT Swiss
DVO
Electra
FOX
Fyxation
Giant
Gusset
Identiti
Interloc Racing Design
Juliana
Kona
Kuat
Liv
Magnum Bikes
Manitou
MRP
New Albion Cycles
NS Bikes
Octane One
Pake
Park Tool
Santa Cruz
Scott
Soma
Specialized
Syncros
Trek
Vittoria
Wahoo Fitness
X-Fusion