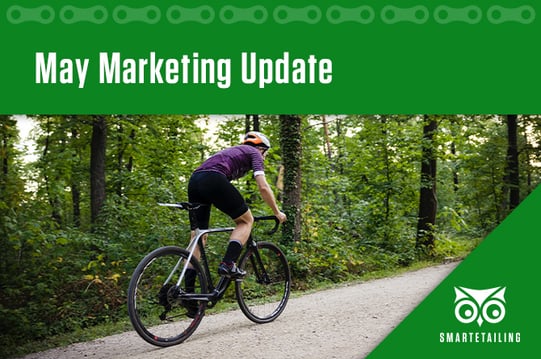 Summer is just ahead - get your site in shape for the busy season now. National Bike Month, Mother's Day, Memorial Day, and graduation are all great reasons to celebrate cycling and promote your products online. Plan out your marketing for May now with any of this content.

Our team is always ready to assist with your site's content, whether you opt for free library pages or want to customize your content. Reach out to the client success team or your designated marketing representative with any questions.
---

National Bike Month
May is National Bike Month, the perfect way to stoke a love of cycling. Celebrate this month and inspire your customers to get out and ride more.
Found in the Page Library under Seasonal Content > Spring > National Bike Month 2023
---

Memorial Day Sale
Shoppers wait all year long for Memorial Day Deals. Give them the goods with sale content that promotes bikes, apparel, gear, and more.
Found in the Page Library under Holidays > Memorial Day Sale 2023
---

Mother's Day
Give your customers gift ideas for Mother's Day - there's no better way to celebrate Mom than with the gift of cycling. Showcase women's apparel, accessories, and bikes with this marketing content,
Found in the Page Library under Holidays > Mother's Day 2023
---

Graduation
Graduation season is here, and you've got the perfect gifts for shoppers to give their grads. This content features bikes and gear that will inspire grads to pedal forward into new horizons.
Found in the Page Library under Seasonal > Spring > Give Your Grad The Perfect Gift 2023
---

Group Rides - All Abilities Are Invited
Need a new way to promote your shop's group rides? Emphasize inclusivity with this fresh content. This page features great tips and tricks for riders who might be new to riding with others.
Found in the Page Library under Community > Join Us For A Ride!
---

Now Hiring - Join Our Team
If you're looking to hire for the busy summer season, use this content to show prospective employees all the joys of working in a bike shop. You can edit the content to suit your hiring needs, or ask your designated marketing representative to help you do so.
Found in the Page Library under About > Join Our Team
---
Refresh Your Homepage
Responsive home page highlights can now be found at the bottom of each corresponding landing page in the SmartEtailing Page Library.
Step One: Find Your Content
To access the new responsive highlights, go to Content Manager > Page Editor and click the "Page Library" tab.
Step Two: Import Your Page
Choose your new responsive page and import it into your library by clicking the yellow icon in the Action column. You will be prompted to select a folder for the new page and given the option to set the imported page to active.
Step Three: Add the Highlight to Your Home Page
Click the "Your Pages" tab and locate your new page. Select the Edit icon to open the page, then scroll to the bottom to find the responsive highlight content as well as detailed instructions for installation.