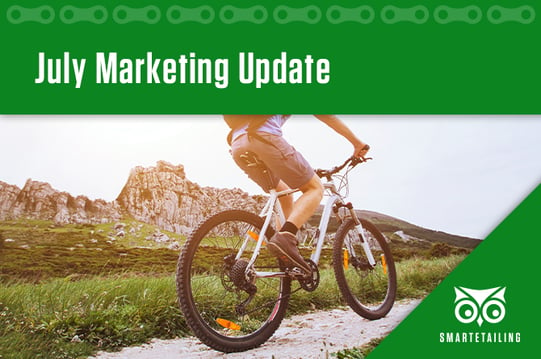 Bring the heat this summer with new content on your website. Emphasize adventure with fresh content geared towards escaping the roads. Electric bikes are extra hot this season - display your inventory and show your customers why shopping for an e-bike locally is the right call. Let the adventure begin!


Don't see marketing materials for the product categories that you want to promote? Want something customized to fit your landscape? Reach out to our support team or your marketing account representative today - we would love to help you get what you need to increase sales online and in-store.
---

Mountain Bikes
There's no thrill quite like tearing up singletrack on a mountain bike. Get your customers excited about crushing trails this summer - they'll find their flow on a brand new MTB.
Found in the Page Library under Products > Bicycles > Mountain Bikes > Mountain Bikes - Find Your Flow
---

Shop Local For E-Bikes
Many shoppers are eager to find a new electric bike online - this page will let them find the e-bike of their dreams on your website. This durable content will highlight the benefits of buying an e-bike locally. We have different versions of this page for Trek, Specialized, Gazelle, Cannondale, and Giant.
Found in the Page Library under Products > Bicycles > Electric Bikes > Shop Local For E-Bikes
---

Escape the Roads
Show your shoppers the freedom that comes with riding an adventure-ready bike. Show off your mountain and gravel bike inventory with gear to match so they can suit up for outdoor excursions in style!
Found in the Page Library under Seasonal Content > Summer > Escape the Roads
---
Refresh Your Homepage
Responsive home page highlights can now be found at the bottom of each corresponding landing page in the SmartEtailing Page Library.
Step One: Find Your Content
To access the new responsive highlights, go to Content Manager > Page Editor and click the "Page Library" tab.
Step Two: Import Your Page
Choose your new responsive page and import it into your library by clicking the yellow icon in the Action column. You will be prompted to select a folder for the new page and given the option to set the imported page to active.
Step Three: Add the Highlight to Your Home Page
Click the "Your Pages" tab and locate your new page. Select the Edit icon to open the page, then scroll to the bottom to find the responsive highlight content as well as detailed instructions for installation.