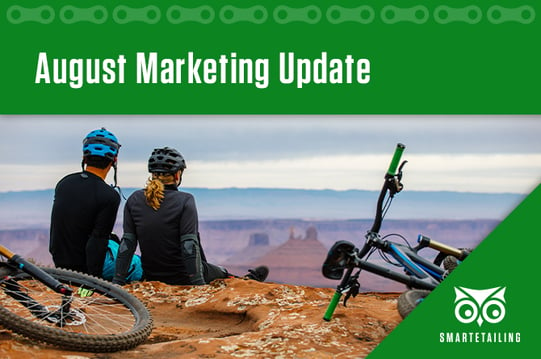 Summer is drawing to a close, but that doesn't mean the end of the cycling season. While riders may have checked plenty of adventures off their list this summer, the adventure can continue into fall with the right cycling equipment. Show your shoppers how to pedal forward into fall with fresh ideas, like e-bike accessories and end of season clearance content.



Don't see exactly what you're looking for, or want something more customized? Our team is happy to help design unique content that fits your brand. Reach out to your designated marketing representative, or contact the Client Success Team to learn more about custom design work for bike shops.
---

End Of Summer Sale
Is your shop ready for fall? Freshen up the sales floor with a clearance event and get customers ready for another season of great riding.
Found in the Page Library under Sales & Promotions > End Of Summer Sale 2023
---

We Ship Bikes!
Let your customers know that you can ship them a brand new bike straight to their door, no pickups required. This page features additional accessories they can add to their order - get shoppers fully kitted out in no time!
Found in the Page Library under Services > We Ship Bikes!
---

E-Bike Accessories
Not all car racks are made equal. This durable content is made to show shoppers that there are accessories made specifically for electric bike riders. We have versions for Trek, Specialized, Electra, Gazelle, and Giant available in the Library.
Found in the Page Library under Products > Gear > E-Bike Accessories
---

Labor Day Sale
Customers are eager to find savings on holiday weekends - celebrate Labor Day by clearing out inventory with great deals on bikes, apparel, and gear.
Found in the Page Library under Sales & Promotions > Labor Day Sale 2023
---
Refresh Your Homepage
Responsive home page highlights can now be found at the bottom of each corresponding landing page in the SmartEtailing Page Library.
Step One: Find Your Content
To access the new responsive highlights, go to Content Manager > Page Editor and click the "Page Library" tab.
Step Two: Import Your Page
Choose your new responsive page and import it into your library by clicking the yellow icon in the Action column. You will be prompted to select a folder for the new page and given the option to set the imported page to active.
Step Three: Add the Highlight to Your Home Page
Click the "Your Pages" tab and locate your new page. Select the Edit icon to open the page, then scroll to the bottom to find the responsive highlight content as well as detailed instructions for installation.