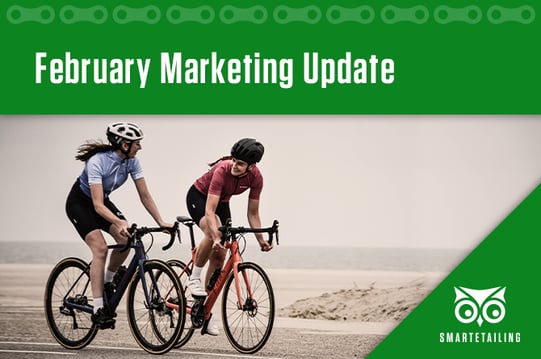 Is your shop ready for spring? Customers are eager to shed the winter blues and get back outside - help them find the perfect riding setup with great content. Encourage shoppers to get their gear early - our springtime promotional content includes a sale page, nighttime riding content, and indoor training information.

Our team is always here to help with your site's content, whether you opt for free library pages or want to customize your content. Reach out to the client success team or your designated marketing representative with any questions or ideas you may have to finish out the year strong.
---

Bike Sale
If you're still looking to clear the floor for fresh inventory, the 2023 Bike Blowout page can help. Get customers on their dream bike at the right price, so you can bring in new bikes for the spring.
Found in the Page Library under Sale & Promotions > Bike Blowout 2023
---

Plan Your Evening Ride
The days are still short - help your shoppers navigate nighttime riding with the right lights. This page includes bike light configurations as well as reflective gear, so they can see and be seen, day and night.
Found in the Page Library under Products > Gear > Bike Lights & Reflective Gear
---

Indoor Trainers
Not all cyclists are eager to ride on rainy spring days. Make training easier for your customers with an indoor trainer - they'll be fresh and ready to ride when the sun comes out again.
Found in the Page Library under Seasonal Content > Winter > Stay In The Zone
---
Refresh Your Homepage
Responsive home page highlights can now be found at the bottom of each corresponding landing page in the SmartEtailing Page Library.
Step One: Find Your Content
To access the new responsive highlights, go to Content Manager > Page Editor and click the "Page Library" tab.
Step Two: Import Your Page
Choose your new responsive page and import it into your library by clicking the yellow icon in the Action column. You will be prompted to select a folder for the new page and given the option to set the imported page to active.
Step Three: Add the Highlight to Your Home Page
Click the "Your Pages" tab and locate your new page. Select the Edit icon to open the page, then scroll to the bottom to find the responsive highlight content as well as detailed instructions for installation.