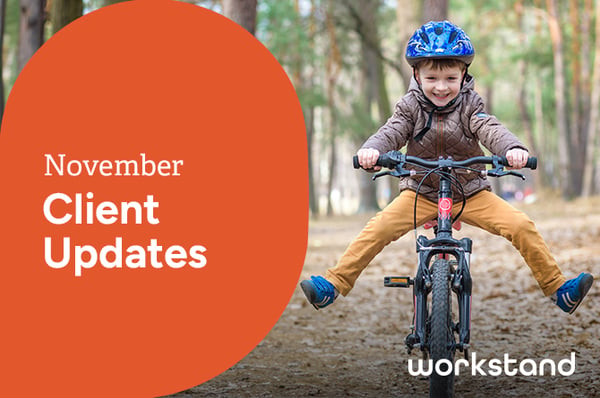 Read the latest updates from all the teams and departments at Workstand. Each month our team is working tirelessly to get your website and tools working as efficiently for you as possible. Check out the November update to learn more.
Get a demo of our new POS feautres
Sell in store backed by the power to sell online with our optional POS system included in every ecommerce package or as a standalone service. We are now offering no-pressure previews to all retailers and will officially launch our new service January 2024. As an existing Workstand customer, you already have access to some in store feautres and we'd love to give you a tour.
Get a demo of our new POS features
Have a brand interested in ensuring their product data is in our POS data? Send them to our form and our Brand and Supplier Team will reach out.
Saris Buy Local Now
We've partnered with Saris to connect more shoppers to your business with Buy Local Now. Buy Local Now is a product locating platform that connects consumers visiting brand websites, like Saris.com, with your bike shop. Learn more about how we're driving valuable traffic to your business here.
We provides the service free to all bicycle retailers, whether or not you have a Workstand website. If you're already a Workstand customer or have already signed up for a Buy Local Now account, no action is required to participate. Reach out to the Workstand Success Team if you need help ensuring your POS system is connected. If you're not a Workstand customer, simply fill out the form and their team will set up your complimentary Buy Local Now account.
Limiting fraud
The holidays are here and it's more important than ever to be vigilant about fraud. Please take some time to refresh yourself and your team on the tactics to limiting fraudulent orders.
Supporting you through the busy shopping weekend
We will have support staff available on Black Friday (11/24) from 8 am to 5 pm mountain time.
Marketing Updates
Keep sales strong through the holidays
The holiday shopping season is here and we're prepared to help you finish the year strong. Bundle savings available!
Each premium content package is $400 and comes with a landing page, homepage graphic, plus content for social media and email marketing. This content can be customized to reflect the brands that you carry. Ready to get started? Email lauren.w@workstand.com to get rolling.
Content Updates
Free marketing content
We have a wide variety of complimentary holiday content live in the page library in the Holidays folder. Please let us know if you need brand photography swapped out for free or would like assistance.
Catalog Updates
Our Catalog Team works closely with the brands you carry to ensure you can display up-to-date products on your website. Check out the brands we've added over the past 30 days -
Snow sports brands with new items added
K2
Headsweats
Halo Headband
Nordica
Fox Racing
Salomon
Burton
Rossignol
POC
Dalbello
Cycling brands with new items added
Bontrager
Norco
Giant
Cinelli
Santa Cruz
Juliana
Salsa
Toko
Trek
CADEX
MRP
45NRTH
Specialized
FOX
Giro
Orbea
Cannondale
Bell
Pinarello
Surly
Ritchey
Deuter
SixSixOne
Nutcase
Headsweats
Magura
Pace Sportswear
SpeedSleev
Tioga
Velo Orange
Leatt
VeloToze
Halo Headband
Restrap
Save Our Soles
Columbus
DHDwear
Snek
Liv
Wolf Tooth
Fox Racing
Electra
Chris King
Momentum
Shimano
FSA
TRP
Aztec
e*thirteen
Gates Carbon Drive
Hope
Renthal
Rotor
SunRace
Alligator
Blackspire
Genetic
Interloc Racing Design
Pake
Praxis Works
Vuelta
Yokozuna
absoluteBLACK
OneUp Components
Ciclovation
Leonardi
Garmin
Yeti Cycles
Velotric