The goal is generally the expectation, and the stretch goal is the big win.
Keeping staff motivated and accountable is critical for a bike shop's success. Knowing what is expected and what is considered a big win helps to generate teamwork and focus.
The goal is generally the expectation, and the stretch goal is the big win. If your goals are set too high or too low, apathy can set in as you never succeed. For this reason, you should constantly adjust your goals to match your market conditions. Savvy retailers increased their goals as sales surged due to Covid 19 in 2020. Goals may also need to be adjusted downward if inventory is unavailable, you are experiencing unfavorable weather conditions, etc.
Tracking progress towards your goals
Here is a portion of Retail Toolkit's sales dashboard, delivering the information store owners, managers, and critical staff need to know in real-time. Monthly and yearly totals are similarly displayed.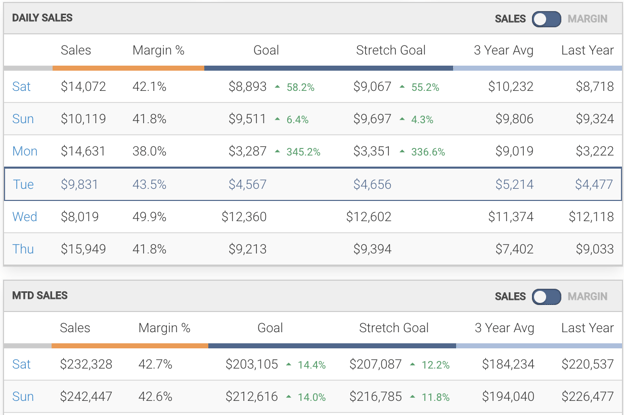 From a business planning perspective, goals are critical for budgeting your expenses—some examples being labor, advertising, and purchasing. You may struggle to reach increased sales goals without boosting inventory, promotions, and staffing levels to fuel the growth.
Retail Toolkit's sales module provides a potent tool to assist you in quickly setting and monitoring your goals. The top of the dashboard offers at a glance information about the business. Multi-store operations can configure the dashboards by the individual store, or the whole company.
Managing the data
Goals are set using historical data such as three-year averaging. You can adjust the weight given to each year, using only last year's sales, or by using an absolute dollar amount, and our latest update now allows for location-specific goal setting.
Three-year averaging is generally the default and will weigh most heavily on the most recent year, but you can adjust it any way you prefer. An example of changing the weighting might be that you feel 2020 (C19 sales surge) was an outlier, and you want to mute its effect on the goals so that you may adjust its weight downward. If you use Last Year as your basis, you could improve last year upon a very realistic sales year.
The newest enhancement - the ability to set location-specific goals as outlined above, allows for setting goals based on another of the business's locations that will provide a good starting point for the new location, which does not have any historical data to draw from.
Choosing your Goal Basis
The crucial part of goal setting is to set a realistic increase for the goal and a little reach for the stretch goal. Occasionally a retailer may feel that they are "holding steady." However, it is generally a best practice to still increase your goals simply due to inflation of both expenses and product pricing increases.
Updated location-specific functionality
Retail Toolkit's software development team recently rolled out a significant update for retailers opening a new store location that does not have historical data to draw from for the goal setting. Before this update, it was challenging to set goals on a company-wide basis without performing tedious workarounds.
The solution now allows a multi-store retailer to configure goals independently for each location so that stores with historical data can utilize that, while a new store without that data can choose a "reference" location to configure sales goals.
Want more information?
Please reach out to David or Client Success for help setting your goals to drive success.