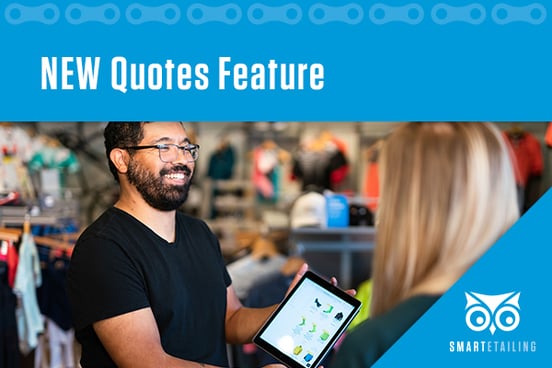 As retail changes, you are challenged to deliver a high quality local bike shop experience to your customers - even when they shop online.
We've just made that easier with our new Quotes feature.
With Quotes, your team can create and email a suggested order to a customer. From your email, the customer is taken directly into a pre-populated shopping cart where they are one click away from buying from you.
Using Quotes for your business
Retailers have been asking us for a way to suggest add-on items for online bike purchases.
Until now, you needed to send your customer an email with multiple hyperlinks for them to build their own shopping cart. The process was inefficient for shoppers and not the customer service experience that you want to deliver.
Now when a customer buys a bike online you can send a personalized email that includes a single link with suggested add-ons. If the customer purchases online, you can have the accessories installed and ready for pickup.
It's more convenient for the customer and more effective for you.
We've also seen retailers increase their use of live chat on their websites. Now when you are helping online customers find what they are looking for, you can ask for their email and send them a personalized shopping cart to make shopping easier.
You can even use it in the store. It's always been a challenge to close sales when a customer walks out your door to see options at other stores. Say goodbye to sending the customer home with scribbles on a piece of paper. Now you can ask for their email address and send them a pre-built shopping cart with the items they were looking at.
When they choose to buy from you, they can open your email on their phone and checkout in less then a minute.
Use Quotes to collect pre-payment on special orders - or better yet - use SmartEtailing's drop ship capabilities to bypass your buyer's desk altogether.
Quotes can work for you in so many practical ways.
Expect even more to come
Retail is changing fast, and we understand many of your challenges. That's why we will keep enriching this Quotes feature until it becomes an essential part of your customer service and sales process.
Get started now so you are dialed in for the spring selling season.
To learn more about Quotes, visit our help center or contact our Client Success team for personalized support.