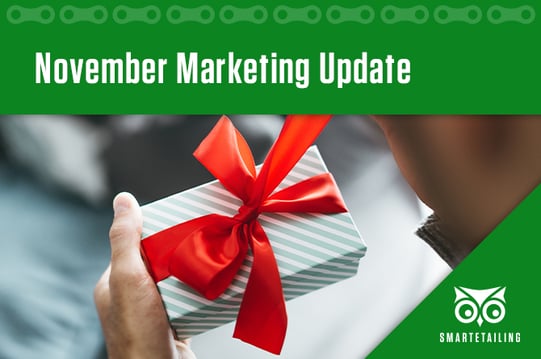 The holidays are right around the corner, and customers are eager to shop early for great deals on cycling gifts. Get your site ready for the rush with content for Black Friday, Small Business Saturday, and Cyber Monday, all geared toward showing customers the products they're looking for.

Don't let the end of year scramble slow you down - you can reach out to a member of our team for help with installing content, email marketing, and giving your site a refresh before the holiday season.
If you prefer content more tailored to your shop, our team can help you with custom content including homepage content, landing pages, and more. Reach out to a member of the support team or your dedicated marketing representative for more information, and get ready to sell, sell, sell.
---

Black Friday
Black Friday is the big kahuna when it comes to end of year deals. This page will emphasize your great inventory, with sale products as the focus. Customers expect to find great prices on their dream products - point them in the right direction with this new for 2022 homepage highlight and landing page.
Found in the Page Library under Sales & Promotions > Black Friday Sale 2022
---

Small Business Saturday

People love supporting local businesses - get more in touch with your customers with our Small Business Saturday content. The big box stores don't have the same personalized touch as a community-oriented bike shop, one that focuses on customer satisfaction even beyond New Bike Day. You've already curated the local feel, use this content to show your customers all the great cycling products available in the shop.
Found in the Page Library under Holidays > Small Business Saturday 2022
---
Cyber Monday

Drive online sales with Cyber Monday content. Show off all your sale inventory in one place, and let the quality products in your shop do the rest. After a long weekend of holiday revels, customers who like to browse products from home can easily shop your great deals and pick up in-store.
Found in the Page Library under Sales & Promotions > Cyber Monday 2022
---
Refresh Your Homepage
Responsive home page highlights can now be found at the bottom of each corresponding landing page in the SmartEtailing Page Library.
Step One: Find Your Content
To access the new responsive highlights, go to Content Manager > Page Editor and click the "Page Library" tab.
Step Two: Import Your Page
Choose your new responsive page and import it into your library by clicking the yellow icon in the Action column. You will be prompted to select a folder for the new page and given the option to set the imported page to active.
Step Three: Add the Highlight to Your Home Page
Click the "Your Pages" tab and locate your new page. Select the Edit icon to open the page, then scroll to the bottom to find the responsive highlight content as well as detailed instructions for installation.