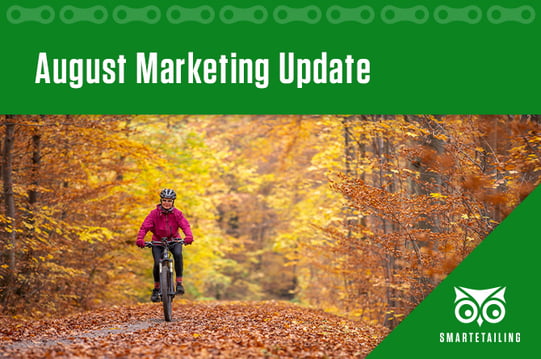 Hello, August. Now is the time we get to prepare for the wonderful season of fall, a time of year we enjoy most atop a bike. This month our digital marketing content provides a fresh take on promoting Fall Riding which focuses on the comfort, commuter, and fitness categories. Next up is Pre-Fall Maintenance and routine repairs significance to a quality ride experience. Lastly, Back to School shopping makes bikes and gear center stage. Most importantly, reach out to our team if you need any assistance with marketing or refreshing your website.

Don't see marketing materials for the product categories that you want to promote? Want something customized to fit your desired look and feel? Reach out to our support team or your marketing account representative today - we would love to help you get what you need to increase sales online and in-store.
---

Fall Riding
Raise your hand if fall is your favorite riding season. Well, both of our hands are lifted to the sky because fall is a true favorite of ours. Fall riding is full of great sights, breezy bliss and a welcome change from the heat waves. With this page, you'll get some fun puns to go along with showcasing comfort, commuter, urban, fitness and hybrid bikes. Plus, some shopping options for MTB, road, gravel and electric bikes.
Found in the Page Library under Seasonal Content > Fall > Hello Fall
---

Pre-Fall Maintenance

Encourage your customers to take good care of their bike(s) with a friendly pre-fall maintenance reminder. This page will include recommendations for proper repair tools, cleaners, degreasers, lubes, tires, tubes, sealant, bike stands and a special shoutout to connect with your service department. Advocate for the importance of regular maintenance so they can worry less, stay safer, and ultimately have a great experience with each ride.
Found in the Page Library under Seasonal Content > Fall > It's Tune Up Time
---
Back To School

Time for students to stock up on school supplies and prepare to hit the books. Parents are also helping their proteges get prepared to go back to class. Help ease the students' pain of returning to school by promoting bikes in-stock and the gear to match. Students will be able to leave summer in the dust. Show all the bikes, helmets, and accessories they can shop online or in store to get ride ready.
Found in the Page Library under Seasonal Content > Fall > Get Back to Class
---
Refresh Your Homepage
Responsive home page highlights can now be found at the bottom of each corresponding landing page in the SmartEtailing Page Library.
Step One: Find Your Content
To access the new responsive highlights, go to Content Manager > Page Editor and click the "Page Library" tab.
Step Two: Import Your Page
Choose your new responsive page and import it into your library by clicking the yellow icon in the Action column. You will be prompted to select a folder for the new page and given the option to set the imported page to active.
Step Three: Add the Highlight to Your Home Page
Click the "Your Pages" tab and locate your new page. Select the Edit icon to open the page, then scroll to the bottom to find the responsive highlight content as well as detailed instructions for installation.