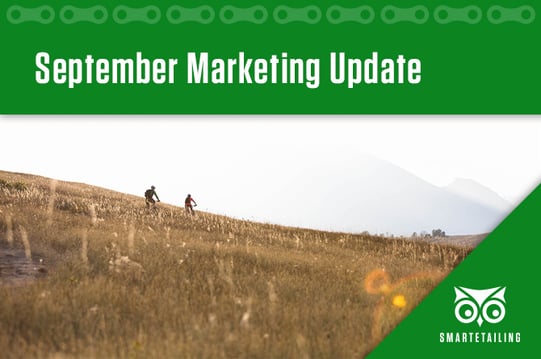 Check out our latest batch of content to help you highlight your newest offerings. If you're planning to have a sale on Labor Day - we got you covered with our Labor Day Sale homepage highlight and landing page. Also, get ready to shine a spotlight to encourage your customers to shop online and pick up in-store with our Click & Collect content. Plus, for those of you who stock up on winter gear, fat bikes, skis, snowboards, or the like, help prepare your customers to be ready for the cool down with Snow Sports content.

Don't see marketing materials for the product categories that you want to promote? Want something customized to fit your desired look and feel? Reach out to our support team or your marketing account representative today - we would love to help you get what you need to increase sales online and in-store.
---

Click + Collect
Shopping local just got easier. We want you to remind your customers just how simple it is to shop with you. Help them free up more of their time by shopping online. That means more time to do what's important - ride bikes!
Found in the Page Library under About > Buy Online, Pick Up In-Store
---

Snow Sports

Help your customers Winter Better as the colder season takes over. Remind your audience of the importance of having the proper gear to enhance their experience when temperatures are less kind. Motivate your customers to get prepared for winter.
Found in the Page Library under Snow Sports Content > Winter Better
---
Labor Day Sale

Celebrate Labor Day with a sale that recognizes the achievements of everyday workers. Help them save more of their hard-earned cash when they accessorize, get a wardrobe refresh, or a new bike. Let your sale be part of the fruits of their labor.
Found in the Page Library under Sales & Promotion > Happy Labor Day Sale 2022
---
Refresh Your Homepage
Responsive home page highlights can now be found at the bottom of each corresponding landing page in the SmartEtailing Page Library.
Step One: Find Your Content
To access the new responsive highlights, go to Content Manager > Page Editor and click the "Page Library" tab.
Step Two: Import Your Page
Choose your new responsive page and import it into your library by clicking the yellow icon in the Action column. You will be prompted to select a folder for the new page and given the option to set the imported page to active.
Step Three: Add the Highlight to Your Home Page
Click the "Your Pages" tab and locate your new page. Select the Edit icon to open the page, then scroll to the bottom to find the responsive highlight content as well as detailed instructions for installation.