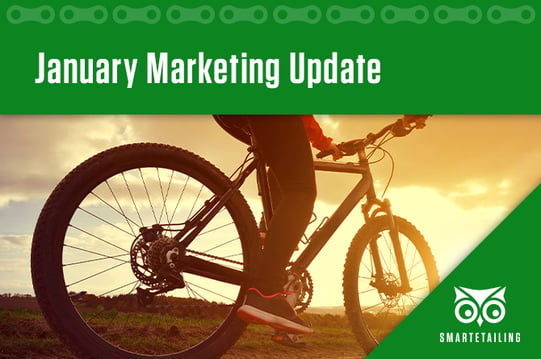 "New year, new you" takes on a whole new meaning for bike shops - customers are eager to fulfill their New Year's resolutions with fitness. Get ahead of the pack by prepping your website with the right content geared towards getting customers on a new bike. Offer customers a clean slate with winter service, clear out last year's bikes & gear with a winter clearance sale, and get ready for a great 2023.

Our team is always here to help with your site's content, whether you opt for free library pages or want to customize your content. Reach out to the client success team or your designated marketing representative with any questions or ideas you may have to finish out the year strong.
---

Biking on a Budget
Show customers who are eager to start riding but hesitate due to the cost that biking on a budget is totally possible. This landing page demonstrates that less expensive bike options can open up new opportunities for those who want to start with the basics.
Found in the Page Library under Seasonal Content > Winter > Biking on a Budget
---

New Year's Revolution
Help shoppers find the best ways to get outside and ride this year with New Year's Revolution content. Featuring electric, road, mountain, hybrid, and even kids' bikes, this page will encourage any cyclist to diversify their riding experience.
Found in the Page Library under Seasonal Content > Winter > New Year's Revolution 2023
Warm weather style graphic also available in the Page Library under Seasonal Content > Winter > New Year's Revolution 2023 (Option 2)
---

Winter Clearance Event
Get the floor ready for spring with a Winter Clearance event. This page is a two-for-one: clear out last year's inventory and help a customer find the bike of their dreams at a low cost. Shoppers can browse your on-sale bikes and pick out great apparel and accessories in one place.
Found in the Page Library under Sales & Promotions > Winter Clearance Event 2023
---

Winter Service
The spring service rush is already on the horizon. Help customers shake off the dust with bike service before your schedule fills up - they'll be thrilled to get riding as soon as the flowers bloom again. Equip customers with expert advice and a home repair kit so they can ride through to their next tune-up.
Found in the Page Library under Seasonal Content > Winter > Winter Service 2023
---

Make a Resolution You'll Want to Keep - Premium
Thinking of a resolution - and keeping it - can be difficult without the right motivation. Provide your customers with ready-made ideas for resolutions that combine fun & fitness. Whether they're new to cycling or simply want to try something new, your customers can find inspiration with this premium content.
Each premium content package is $400 and comes with a landing page, homepage graphic, plus content for social media and email marketing. This content can be customized to reflect the brands that you carry. Ready to get started? Email lauren.w@smartetailing.com to get rolling.
Landing Page Preview
---
Refresh Your Homepage
Responsive home page highlights can now be found at the bottom of each corresponding landing page in the SmartEtailing Page Library.
Step One: Find Your Content
To access the new responsive highlights, go to Content Manager > Page Editor and click the "Page Library" tab.
Step Two: Import Your Page
Choose your new responsive page and import it into your library by clicking the yellow icon in the Action column. You will be prompted to select a folder for the new page and given the option to set the imported page to active.
Step Three: Add the Highlight to Your Home Page
Click the "Your Pages" tab and locate your new page. Select the Edit icon to open the page, then scroll to the bottom to find the responsive highlight content as well as detailed instructions for installation.